BLUE GROOVE 6X WOOD BORING BITS
1921995
BLUE GROOVE 6X WOOD BORING BITS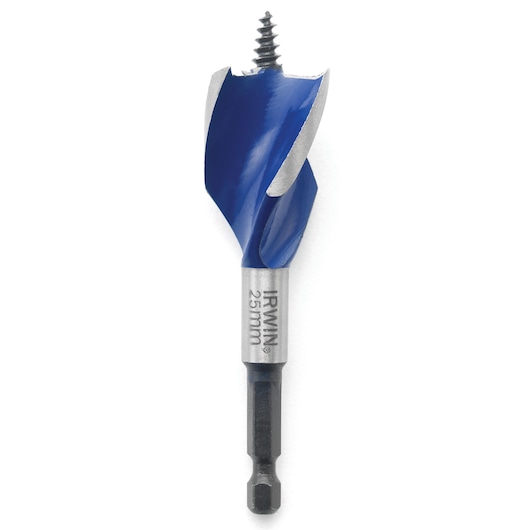 1921995
BLUE GROOVE 6X WOOD BORING BITS
THREE CUTTING SPURS - For clean holes with minimal break out.
FULL SCREW TIP - For easy pull through and added accuracy.
TAPERED TRI-FLUTE DESIGN - For faster chip ejection, less binding and ease of use.
View more features
Product Overview
Professionals can now improve their productivity and accuracy with IRWIN®'s innovative ranges. IRWIN® Blue Groove 4X and Blue Groove 6X wood boring bits raise-the bar on tool quality and performance. The cutting edge technology incorporates true "cutting edges" that glide through the wood versus scraping its way through. The latest generation Blue Groove Power is adding extreme durability thanks to Bi-Metal Technology.
Additional Features
FULL LENGTH HEAT TREATED - For extra durability. 1/4" / 6mm
QUICK-CHANGE SHANK - Reduces slipping in standard chucks and is compatible with 1/4" / 6mm quick-change chucks.
MULTIPLE LENGTHS AVAILABLE - 4", 6" & 16" Short Length Bits for drilling in tight spaces.
Ideal for holes up to 2" (50mm) deep.
Standard length bits ideal for holes up to 4" (100mm) deep.
Extended length bits include hole in flute for easy wire pulling through walls, ceilings and floors.
Support
Service
We take extensive measures to ensure all our products are made to the very highest standards but on the rare occasion that you need our help & support, we've got you covered. Just get in touch.