10504161
BI-METAL HOLE SAWS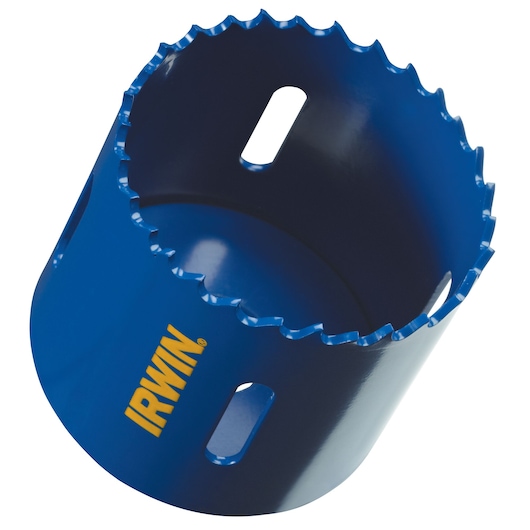 10504161
BI-METAL HOLE SAWS
WELDTEC™ TECHNOLOGY - Delivers enhanced durability and higher cutting speed.
TOOTH DESIGN - For up to 100% longer life and 50% faster cutting.
4,5 / 5,5 VARIABLE TPI - For faster cuts, less torque build-up and enhanced chip removal.
View more features
Product Overview
The WeldTec™ platform combines various attributes to deliver long lasting cutting performance. A revolutionary tooth geometry and an updated tooth set enables faster and smoother cuts, as well as improved longevity. IRWIN® Bi-Metal Hole Saws cut through a variety of materials, including: Aluminum, Copper, Iron, Stainless Steel, Wood and Zinc. The electron beam welded High Speed Steel (HSS) cutting edge ensures stronger, longer lasting teeth. Precision set teeth provide faster penetration and cutting. And, the bi-metal construction delivers toughness and long life.
Additional Features
VARIABLE GULLET DEPTHS - For more efficient chip clearance.
THICK BACKING PLATE - Gives robustness for the toughest jobs.
BI-METAL CONSTRUCTION - For increased life and durability.
Support
Service
We take extensive measures to ensure all our products are made to the very highest standards but on the rare occasion that you need our help & support, we've got you covered. Just get in touch.