IRWIN® JackA PLUS 990, 330mm, 12TPI Fine Cut Handsaw
10503632
IRWIN® JackA PLUS 990, 330mm, 12TPI Fine Cut Handsaw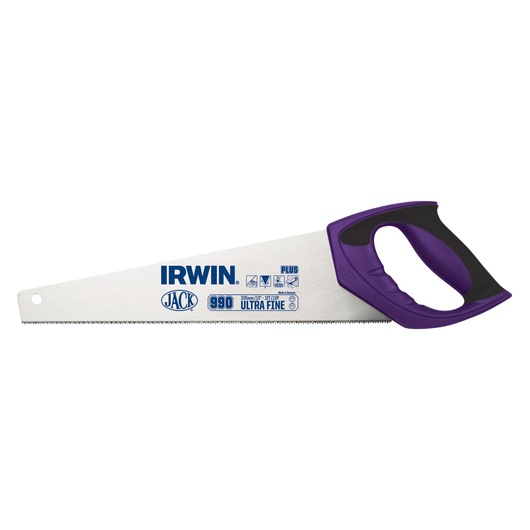 10503632
IRWIN® JackA PLUS 990, 330mm, 12TPI Fine Cut Handsaw
11 TPI TRIPLE-GROUND TEETH – For smooth efficient cuts.
INDUCTION HARDENED TEETH – Stay sharper for longer.
STRONG, STEEL BLADE – For less blade wobble and maximum power transfer with every stroke.
View more features
Product Overview
IRWIN® Jack® PLUS 990 Fine Cut Handsaw 13" (330mm) has 11 TPI and Triple-Ground Teeth for smooth, efficient cuts. With induction hardened teeth and a strong steel blade, this handsaw is designed to stay sharper for longer and deliver maximum power transfer with every stroke. The comfortable handle with increased grip circumference for a sturdy and robust feel also features integral 90° and 45° angle guides for easy marking out.
Additional Features
PROTOUCH™ GRIP AND INCREASED GRIP CIRCUMFERENCE – For maximum comfort and control.
90° & 45° Angles Integrated into handle for easy marking out
INTEGRAL 45° AND 90° ANGLE GUIDES – for quick and convenient marking out.
HANG HOLE – For convenient storage on the workshop wall.
MADE IN DENMARK – To the highest standards.
Applications
2nd Fix applications including Soft woods, Mouldings, Flooring, PVCu, ABS
Support
Service
We take extensive measures to ensure all our products are made to the very highest standards but on the rare occasion that you need our help & support, we've got you covered. Just get in touch.